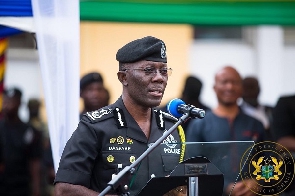 The Chief of Akyem Kade, Osabarima Agyare Tinadu I, has served notice that he will not entertain the activities of illegal miners in the area.
He has since admonished the Inspector General of Police to take steps to sanction some of his men who are fronting for some illegal miners.

He responded to a concern expressed by some soldiers and the allegation that one Chief Superintendent Agyenim Boateng, accompanied by one Oheneba Cudjoe Obeng (Twafohene), claimed ownership of the land where some illegal miners were arrested.

He described the incident as unfortunate, and requested that the IGP intervene as soon as possible.

"If he claims to be working and transforming the Police, he must address some issues. Consider the dangers that the soldiers faced while fighting Galamsey.
"After people have been arrested, the police commander will follow someone posing as Twafohene when he is not and is a front for illegal miners," he lamented.

He wants all those arrested for illegal mining activities, as well as any other accomplices, punished.

He warned the community that illegal mining would not be tolerated in Kade and that all efforts would be made to ensure that those involved were prosecuted.