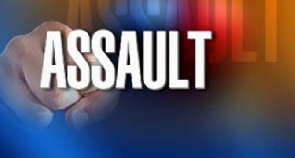 In the course of their work in the community, three journalists from Fresh FM in Akyem Kade have been assaulted.
The sports department journalists were assaulted while covering a story about an abandoned stadium project in the community.

Two newly hired employees were among the journalists, as was a senior worker who was leading the team to show them around the area.

The senior worker explained to the new workers that the abandoned land, which is earmarked for a stadium project, had been abandoned and had grown weeds.

The two other journalists photographed the location, and then, seemingly out of nowhere, a resident of the neighbourhood stormed the scene and assaulted the journalists, claiming that they had photographed the house.

Oheneba Cudjoe has been identified as the man who allegedly assaulted them.
The manager of the station, Rincoln Tito, told host Kwabena Agyapong on Frontline on Rainbow Radio 87.5Fm that the assault has devastated the new workers.

He stated that the situation had not been ideal, as they had their phones seized by the aforementioned Cudjoe.

He explained that the company's CEO went to the said Cudjoe to find out what happened, but he was verbally abused.

According to him, the matter has been reported to the police, and they anticipate that it will be taken to court.

"Police medical forms were given to the workers. They've been to the hospital, and we expect the police to take the matter to court. We will accept responsibility if we are found to be at fault in court. That is what we desire. He had threatened to shut down our station and harm us."