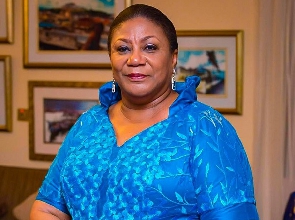 Vice President Dr. Mahamudu Bawumia has eulogised the first lady, Rebecca Akufo-Addo, as she marks her 72nd birthday on March 12, 2023.
In a Facebook post, Dr. Bawumia wished the first lady God's continued blessing and protection as she achieves the milestone.

Describing her as 'Auntie Becky' the Vice President wrote, "Auntie Becky my wish for you on this day is that may God continue to bless and protect you, and keep impacting positively on humanity."

Prior to this, President Nana Addo Dankwa Akufo-Addo, also in a Facebook post, celebrated his wife on her birthday.

"Happy Birthday to my beautiful Rebecca," he said while sharing two images of his wife on Facebook.

Rebecca Akufo-Addo became First Lady after Nana Addo Dankwa Akufo-Addo won the December 7 elections in 2016 and was subsequently sworn in as president on January 7, 2017.
She is using her office to champion the cause of women and children and as an ambassador for the fight against cancer.

Rebecca Akufo-Addo was born on March 12, 1951.



MA/DA