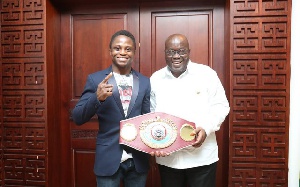 Born in Ghana, made in Britain; stripped by Mexico. This seems to be the year in summary for the country's youngest Featherweight World Champion Isaac 'Royalstorm' Dogboe after losing his title to Emmanuel Navarrete in a keenly contested bout.
Probably licking his wounds and going back to the drawing board to assess the situation, the camp of Isaac Dogboe will be reassured they still have Ghana's President backing them in their corner.

President Akufo-Addo shared some uplifting words via his Facebook wall urging the stripped Champion to bounce back stronger.

"Better luck next time to the Royal Storm, Isaac Dogboe. I am confident you'll bounce back even stronger. Keep your head up." His post read

Prior to this fight, Isaac Dogboe had won all of his 20 professional bouts having knocked out 14 contenders in the process. This loss, his first will unfortunately be a landmark one as it contributed to him losing he world title.

His second title defense also marked as many as 4 fights this year alone.
The fight which lasted the entire 12 rounds went in favour of the Mexican by unanimous decision, with all the 3 judges scoring him higher points.

Two of the judges scored the bout 116- 112 in favour of Navarette while the last judge scored it 115 -113 also in favour of the Mexican.