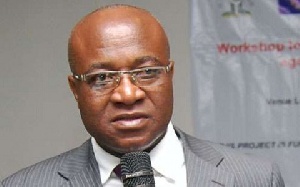 Majority Leader and Minister for Parliamentary Affairs, Hon. Osei Kyei Mensah Bonsu says the leader and founder of the All People's Congress, Mr. Hassan Ayariga does not know anything about the duties and functions of the Special Prosecutor.
According to him, the Special Prosecutor has been resourced enough now to begin his mandated duty.

Speaking on Okay FM's 'Ade Akye Abia' programme, he reiterated the NPP government's commitment to fight corruption by the allocation of a huge budget for the Special Prosecutor.

Mr Hassan Ayariga had in an interview with Okay FM, accused the NPP government of trying to access more loans all in the name of fighting corruption, when indeed they have crippled the Special Prosecutor from effectively dispensing his duties after they have starved him of resources.

"Look at what they have done to my uncle Martin, he cannot do anything to fight corruption. First they gave him some three (3) room as an office and now they are giving him some small amount of money to do what?" he asked.

But the Minister for Parliamentary Affairs believes the ACP leader is misinformed about the duties of the Special Prosecutor.

"He should just keep his mouth shut if he does not know anything about the office of the Special Prosecutor.
"We are resourcing the Special Prosecutor to enable him execute his functions properly," he said.

The Special Prosecutor's Office (SPO) has been allocated GH¢180 million for the 2019 fiscal year.

The money will be used to resource the office to enable it carry out its responsibility of fighting corruption in the country.

The Minister of Finance, Mr Ken Ofori-Atta, announced this on Thursday and said the government was also prepared to provide additional resources for the office during the course of next year to carry out its mandate effectively.

The Special Prosecutor's Office was set up in 2017 with Mr Martin Amidu, a former Minister of Justice and Attorney General, as its first Special Prosecutor.


Since then, however, Mr Amidu has been lamenting over lack of resources for the office to function effectively.

Earlier this month, he authored an article that intimated that the SPO was utterly hopeless.



Mr Amidu said in spite of its establishment a year ago as President Akufo-Addo's flagship tool to fight corruption in the country, the SPO was yet to be resourced to enable the office to execute its mandate.