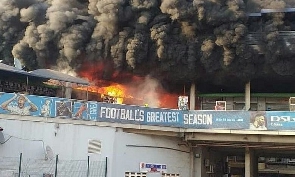 The Combined Trader Unions in Kumasi Kejetia market is demanding fulfilment of GH¢100,000 pledge the New Patriotic Party (NPP) made to the direct victims of the market fire.
The extension portion of the new Kejetia market was on March 15, 2023 caught by fire through alleged human error while using a gas cylinder for cooking.

The fire completely burnt about 35 shops bringing to a halt all trading activities in the affected area for more than a month now.

A delegation from the New Patriotic Party led by the party's General Secretary, Justin Frimpong Kodua, Henry Nana Boakye National Organizer, Kate Gyemfua National organizer among other highly recognized party members visited the market to console the victims.

Speaking to GHOne News Ashanti regional Correspondent, Isaac Justice Bediako, General Secretary of the Party, Justin Kodua announced a GHC100,000 financial support package to the victims whom he described as active respected members of the party.

Adding the money donated will help them recover some of the losses they have incurred from the fire disaster.
"Knowing the situation that they find themselves in, the party has made a pledge of GHC100,000 to support the market women and men whose shops got burnt, at least to support them in the interim, while we know that the government will also have a package for them," he added.

However, speaking to GHOne News on Thursday, April 27, 2023 Nana Kwasi Prempeh said, the New Patriotic Party is yet to honour the pledge they made to them as leaders to share with the fire victims.

"As we speak now we are yet to receive the GHc.100,000 monitory pledge the party made to the fire victims. Our members are always chasing us for the money thinking that the money has already been given to us," he said.

He, however, explained that the NPP's flagbearer hopeful Alan Kwadwo Kyeremanteng has already honoured the GHc.100,000 he made to the victims the very day he made the pledge with what he described as 'physical cash'.

He pleaded with the party leadership to fulfill the promise they made to the victims for it to serve the intended purpose.