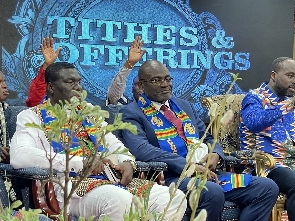 Mon, 25 Sep 2023 Source: Prince Adjei, Contributor
The Church of Pentecost USA, INC New York District's Royal Gospel Sunday event was a remarkable display of unity and devotion, as it brought together spiritual leaders and traditional chiefs in a celebration of faith and culture.
It was under the theme "Royal Gospel Sunday New York Central Assembly: Processing the Nations for Christ".

It witnessed an insightful and inspirational address by the Member of Parliament for Assin Central and NPP flagbearer aspirant, Kennedy Ohene Agyapong.

Other dignitaries present were Bronx Borough President Vanessa L. Gibson; Daniel Kingsley Atta Boafo, Consul General, New York; Ghanaian Chiefs and Kings (from Ghana and across the USA); and Pastors, Elders of Pentecost church, USA, INC.

Kennedy Agyapong began his address by delving into the rich cultural and spiritual heritage of Africa.
He emphasised the significance of acknowledging the role of ancestors as intermediaries between humans and God, citing the practice of pouring libations and invoking the names of the deceased to seek intercession from the spiritual world.

Drawing parallels to the biblical origins of the Church, he stressed the importance of unity between spiritual leaders, chiefs, and congregations in the pursuit of faith.

He stated, "Our African heritage is deeply rooted in spirituality, and we must remember and honor our ancestors as we walk this path of faith".

Unity, devotion:
"I commend the Church of Pentecost for bringing the congregation and the Chiefs together", Kennedy Agyapong expressed, acknowledging the significance of the event in fostering unity among leaders and worshippers.

The event showcased how faith could bridge cultural gaps and bring people together in the name of devotion.

"What I want to plead with you is that, Ghana is at crossroads, and that we need a vision, a man who is going to serve the country and not to lord himself over his people. We need a servant of God who is going to sacrifice his life to make a difference in Ghana, and he is Hon. Kennedy Agyapong".

"As the Bible says in Matthew 20:26, "But it shall not be so among you. Rather, whoever wishes to be great among you shall be your servant". That is what I stand for and I want to serve my country, Ghana," he stressed.
He also touched on his political aspirations during his address, revealing that he is contesting to be the flagbearer of the governing New Patriotic Party (NPP).

He claimed that the District Pastor's words had already bestowed the presidency upon him and called for support from the congregation.

"Whatever message that God proposes to give, He passes to mankind and his sons, and the district pastor has done exactly that," he declared, expressing his commitment to serving Ghana as a visionary leader who prioritises the welfare of the nation's citizens.

Sustaining peace:
Amidst his political aspirations, Kennedy Agyapong emphasized the importance of peace in Ghana and urged the Church of Pentecost, with its significant population, to play a leading role in ensuring the nation's continued stability.

He stated, "You can make the whole world's money, but if you don't have peace, you have nothing," underscoring the need for a leader who could maintain peace in the country. He called for unity and collaboration among Ghanaians to address challenges, particularly the issue of unemployment among the youth".

"We should not depend solely on America or Europe for existence. God has given us brains; let us use our brains and be committed to moving and developing Ghana," Kennedy Agyapong urged, inspiring the congregation to take charge of their destiny.

He further called upon the congregation to pray for a leader who could lead Ghana to a brighter future and challenged everyone to believe that, like their counterparts from other parts of the world, they too could achieve greatness through determination and unity.
Source: Prince Adjei, Contributor