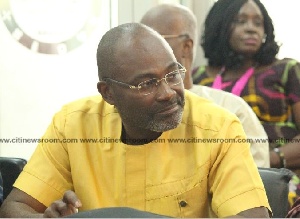 Deputy Minority Whip, Ahmed Ibrahim is predicting a tough job for the new member of Parliament for Assin Central, Kennedy Agyapong as the new Chairman of Parliament's Committee for Local Government and Rural Development.
Mr Agyapong who was the Chairman of the Communications Committee has been replaced by MP for Suhum, Frederick Opare-Ansah in the latest reshuffle of Committees of Parliament.

The changes, which are part of a re-composition of the Select and Standing Committees of the House, according to a report of Committee of Selection, "became necessary due, among other considerations, to the need to enhance the performance and effectiveness of the Committees of the House."

It said some chairpersons and members have been appointed as Ministers of State, Deputy Ministers of State, Regional Ministers as well as Deputy Regional Ministers.
"The frequent absence of such key members adversely impacts the effectiveness of the Committees," the report said.

But Hon. Ahmed Ibrahim envisages that due to the very busy schedule of Hon. Ken Agyapong who's an astute businessman, he'll be unable to perform on that committee which work is equally demanding.

"I know he's a busy man so maybe his new office will be very challenging and he'll have to be crisscrossing from rural area to another rural area. Within these two and half years the committee of Local Government has visited about 150 districts nationwide, it is one of the busiest committees. So his new responsibility as the Chairman of the Local Government and Rural Development Committee I know Mr. Speaker that it is a very challenging office."