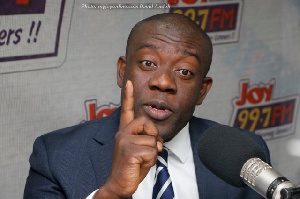 Deputy Minister of Information, Kojo Oppong Nkrumah has stated explicitly that President Nana Addo Danquah Akufo-Addo has no intention of axing his Finance Minister over the issuance of the controversial $2.25 billion bond.
The Minority in parliament at a press conference last week called on the Finance Minister, Ken Ofori-Atta to either resign or be sacked by the President following a Commission on Human Rights and Administrative Justice (CHRAJ) report which cited the Minister for "breaches of the law, guidelines and processes" in the $2.25 billion bond issuance.

They pointed out specifically that the Finance Minister has breached the Asset Declaration Law.

Speaking at a press conference, the Minority Leader, Mr Haruna Iddrisu, said if the President failed to remove Mr Ofori-Atta within 14 working days, the Minority in Parliament would invoke a motion of censorship in accordance with Article 82 of the 1992 Constitution "to remove him from office as soon as possible."

He demanded that Mr Ofori-Atta be subsequently prosecuted for breach of the country's law in the issuance of the bond.

But speaking to host of the Gold Power Drive, Sammy Eshun Monday, Deputy Minister of Information, Kojo Oppong Nkrumah, said the Finance Minster has no reason to resign.

He is of the view that no law has been breached therefore there is no need for the Minority to make such a demand.
"We in government believe that he has not breached any law that should warrant his resignation. We are clear in our minds that no rules were breached as stated in the CHRAJ report," he said.

The Deputy Information Minster pointed out that government disagrees with certain portions of the CHRAJ report, especially the parts of the report that deal with matters that were not before them or they did not have power to look into.

"The reasons for which the Minority is calling for the Finance Minister's sack are reasons government disagrees with CHRAJ on because it doesn't lie within the mandate of CHRAJ to deal with or comment on those issues. CHRAJ is not an adjudicating body," he bewailed.

Mr. Oppong Nkrumah believes the Minority is only looking for public relations value in the matter of the issuance of the controversial $2.25 billion bond.

He also disclosed that the Finance Minister has already begun processes to seek clarification on the issue in court.