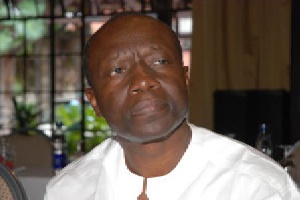 Barring last-minute changes, Finance Minister Ken Ofori-Atta is set to challenge in court the report of the Commission on Human Rights and Administrative Justice (CHRAJ) regarding the controversial 2.25 billion dollar bond, mynewsgh.com has learnt.
Speaking on Metro TV's Good Morning Ghana with Host Randy Abbey, the Editor-in-Chief of the New Crusading Guide newspaper, Abdul Malik Kweku Baako has hinted the Finance Minister contrary to his public silence, is working behind the scenes to clear his name.

Asked by host Randy Abbey why the CHRAJ Report was released on December 22nd, 2017 but six (6) weeks down the line Mr Ken Ofori-Atta was yet to respond either directly or through his Lawyers, Mr Baako, hesitantly disclosed that he was in the know about "some work ongoing" to challenge the issue in court.

"As at four weeks ago, I knew a writ was being prepared to challenge the CHRAJ ruling", he said.

He questioned why CHRAJ did not grant the Finance Minister an audience on the Asset Declaration "discovery" per the rules of Natural Justice as sections of the law required on CHRAJ's mandate made that option available in respect of persons who were subject of a finding or investigation by the Commission.



Rubbishing the Minority's call on President Nana Addo to dismissed the Finance Minister, Mr Baako, however, expressed reservation that the timing of the suit by Mr Ken Ofori-Atta on the issue may appear as if the Finance Minister's hand was forced by the Minority in Parliament over their call for his resignation.
The Minority in parliament had in a statement read by the Minority Leader yesterday called on President Nana Addo Dankwa Akufo-Addo to dismiss the Minister of Finance, Ken Ofori-Atta, with immediate effect.

According to the Minority Leader, Haruna Iddrisu, the report of the Commission on Human Rights and Administrative Justice (CHRAJ) clearly implicates Mr Ofori-Atta in the sale of the $2.25 billion Bond.

The Minority in Parliament has accused Finance Minister Ken Ofori-Atta of flouting rules and guidelines of the Bank of Ghana (BoG) as well as engaging in several infractions in relation to the $2.25billion bond issued by the government in 2017.

According to them, the breach of the period of issue raises red flags which further corroborate their earlier suspicion of conflict of interest on the part of the minister.