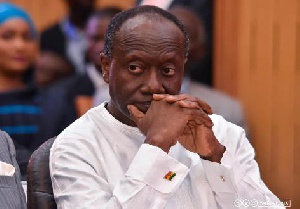 Member of Parliament (MP) for Bolgatanga Central Constituency, Isaac Adongo has stated that Finance Minister Ken Ofori-Atta must admit he is incompetent and therefore need to pave way for a more competent person to manage the finances of the country.
He says Mr Ofori-Atta has over the period proven he has not got what he takes to be in charge as the Finance Minister and must humbly bow out and not wait for President Nana Addo Dankwa Akufo-Addo to fire him as demanded by the minority in parliament.

Speaking on Radio Gold's 'Alhaji and Alhaji' last weekend, he said the Finance Minister cannot keep his own timelines urging Ghanaians not to take him seriously when it comes to managing the finances of the country.

"You don't need the President to sack him, you need to tell yourself you are incompetent. That he cannot see beyond his nose when it comes to Financial planning. When he comes to you with issuance calendar you better shred it because it means nothing to him", he said.
Mr Adongo said the Public Financial Management Act was breached contrary to his own promises of making it his bible in the issuance of the controversial of $2.25 billion bond

According to him, the transaction [terms and conditions] was not brought before parliament for approval and that guidelines, policies, and programmes issued by the Central Bank in compliance with the competitive process were sidestepped by the Finance Minister.

'Can't you see how risky we have left our finances in charge of someone', he asked.