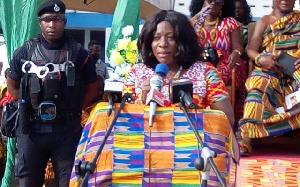 Minister of Tourism, Creative Art and Culture, Catharine Afeku, has said the traditional Kente cloth has contributed immensely to the upliftment of the nation's name globally.
She said the traditional cloth has now become a "national ID" globally for Ghanaians abroad.

"Every country you go, when you tell them you are a Ghanaian, then, they show you Kente," she said, adding that the cloth has sent the nation's name afar and has also promoted Ghana's rich cultural heritage to the rest of the world.

Addressing the grand durbar of the 2017 Bonwire Kente festival celebration which was under the auspices of Bonwire stool held on Saturday, 30 December, 2017 at Bonwire in the Ashanti region, she commended the chiefs and people of Bonwire for their enormous contribution towards promotion of tourism and cultural heritage through the traditional Kente cloths which was created by their forefathers in the 17th century.

Mrs Afeku said the introduction of the Kente festival was commendable, but requested that the date for the celebration should be reconsidered and changed to meet the season where most tourists come for tour in the months of June, July, August, September to help attract them to the festival.
Speaking on the theme: "Promoting development through culture and heritage," she said her ministry in collaboration with the National Commission on Culture and chiefs of Bonwire are considering storing the history of the Kente weaving on both Compact Disc (CD) and Digital Video Disc (DVD) to be sold to tourists who come for tourism in the country.

She noted that this will not only generate revenue for the nation, but will also promote the rich culture and further sell the nation globally.

"Our heritage needs to be stored for posterity. So, there is the need for the history to be put on audio or video to be sold to the tourists to send the good message of the nation worldwide," she stated.

She also called the need for the deplorable road networks in the town to be shaped to give repeat experience to tourists.