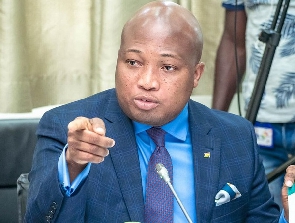 Outspoken Ghanaian politician and Member of Parliament for North Tongu constituency, Samuel Okudzeto Ablakwa, right from the announcement of government's decision to construct a national cathedral has been an open advocate against the project.
His main argument over the period has been that Ghana with its current needs and ailing economy does not need a national cathedral.

The legislator believes funds that would be used for this project can be channeled into improving the lives and living conditions of Ghanaians.

On January 11, 2023, Okudzeto Ablakwa published on his Twitter page the results of an investigation he launched into all parties and the contract guiding the construction of the National Cathedral.

Here are some key findings from his expose';

Millions of taxpayer funds were diverted to companies without construction record
According to the maverick legislator, documents available to him indicate that millions of taxpayer funds have been allocated to JNS Talent Centre Ltd, a company that runs a crèche in Dawhenya.

He revealed the company was paid a whopping GH¢2.6million to help build the cathedral.

The award of contracts for National Cathedral smacks of nepotism

In his social media expose', Okudzeto Ablakwa alleged that the awarding of contracts for the construction of the national cathedral could have been done on the basis of 'family and friends'.

According to him, JNS Talent Centre Ltd, the company which was gifted a colossal GH¢2.6million of taxes is owned by Rev. Johannes Eshun, the spiritual son and branch pastor of Rev. Victor Kusi-Boateng, the secretary to the Cathedral Board of Trustees.
The gifting of GH¢28.2million to Nehemiah Group for raising less than GH¢800K

Okudzeto Ablakwa also revealed that a GH¢28.2million of taxpayers' money was given to Cary Summers, Chief Executive Officer of Nehemiah Group for 'coordination' although the company has not been able to raise more than GH¢800,000 in 3 years.

"More shocking revelations on the scandalous Cathedral project. The Akufo-Addo Govt & Cathedral Secretariat gave out a colossal GHS28.2million of taxpayer funds to Mr. Cary Summers, an American consultant & CEO of the Nehemiah Group who's raised less than GHS800k in 3 years," he wrote on his Twitter page.

EAN/ESA