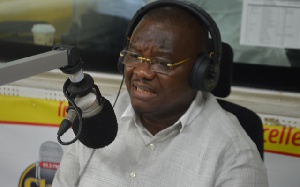 A flagbearer-aspirant of the main opposition National Democratic Congress (NDC), Sylvester Mensah, has promised to scrap the payment of more than a year's rent advance to reduce the burden on Ghanaian families.
According to him, rent advance is plunging families into poverty, and if given the nod to lead the NDC and subsequently becomes president after the 2020 polls, he will ensure landlords do not charge rent for more than a year or two as is the status quo in Ghana.

His comment comes just days after actress Moesha Boduong told CNN's Christiane Amanpour that she sleeps with married men to pay her rent and also take care of her needs.

Speaking on the Executive Breakfast Show (EBS) on Class91.3FM on Tuesday, 17 March 2018, Mr. Mensah said instead of criticising Ms. Boduong's statement, policymakers must work to review the current practice of paying more than a year for rent.

He told show host Moro Awudu that: "At the core of my policy initiative if Ghanaians give me the opportunity, is rent. We need to review our rent control laws, we need to review our rent regulations, when you travel to countries like the U.S., like the U.K., no one pays one-year rent advance, no one pays two, three, four years rent advance.
"In the U.K., you pay one month deposit; all other payments are on monthly basis. when you go to the U.S., the situation is not different; in Ghana rent payment is moving families and individuals into poverty and if the whole idea is to ensure some level of a safety net, social protection to support the underprivileged and reduce barriers that push people into poverty, I think rent is a key issue and that is my takeaway from her [Moesha] statement."

The former boss of the National Health Insurance Authority (NHIA) noted that Ms. Bodoung made a "brilliant statement that I think policymakers must delve into rather than to criticise, we need to review, and given the opportunity to lead my party as flagbearer, given the opportunity to lead this country, I would review the rent laws, we would abolish this prohibitive rent advances, we would make it a disincentive for any landlord to, as it were, demand a year or two years' rent advance".