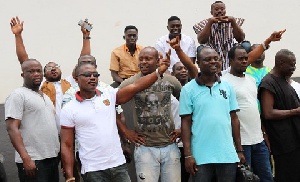 The Head of NPP Vigilante Group, 'Delta Force', has condemned the NDC group, 'The Hawks', following the gruesome murder of one of its members in Kumasi last Monday.
Describing the dastardly act as alien to operations of political vigilante groups in the country, The Head of the NPP Delta Force appealed to the security agencies to expedite investigations and bring perpetrators of the heinous crime to book.

In a statement released and signed by the leader of The Delta Force, Francis Asante aka Akwasi, the group pointed out that shooting or killing themselves or other persons is never a part of their operational schemes, stressing that the action by 'The Hawks' was not only barbaric but also inimical to the existence of vigilantes in the body politic of the country.

"We want to condemn in no uncertain terms the wicked act which was carried out by members of the NDC Hawks last Monday at their regional party office in Kumasi. We want to state emphatically that killing has never and will never be part of our activities as a group," the statement said.

According to them, such incidents only fuel the negative perceptions the public have about their activities, though ideally they only exist to complement the efforts of the security agencies in ensuring orderliness during public political activities.
The NPP Group therefore expressed its condolences to the families of the victims of the unfortunate incident and urged them to exercise patience as the Police continues with their investigations.