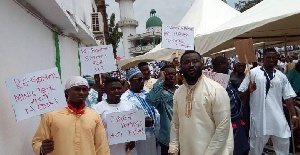 The family of one of the seven Zongo men who were shot and killed by police in Kumasi has urged President Akufo-Addo to immediately order the release of the committee report to them so as to come to terms with the full content and recommendations.
A statement by the Maryamiya family in Kumasi, the family of late Abdul Hannan Bashir, one of the seven (7) Zongo youth brutally murdered by the Police months ago at Manso Nkwanta in the Ashanti Region said:" our heart cannot go to rest with the nightmarish thought of allegation of "armed robbery" levelled against our innocent and promising son who was killed in that terror and horror function by the Police.

It fears relenting on making public the content and recommendations of the committee report "could lead to relapse into a very widespread violence in Asawase and its environs."

The deceased, 33-year-old Abdul-Hanan Bashir was laid to rest months ago at the Old Tafo cemetery.

Background

Abdul-Hanan Bashir, together with six other victims, were shot by police near Anhwiakwanta on the Kumasi-Obuasi road.

The seven were allegedly mistaken by the police for members of an eight-man armed robbery gang who had earlier attacked a sprinter bus and shot dead a police officer at Ayirebikrom near Manso Nkwanta in the Amasie West District of the region.
The Ashanti regional police command said the seven were killed in a shootout.



They were alleged to have opened fire on the police when they attempted to attack a Chinese national.

Just when the Asawase protest was about to turn chaotic, the Manhyia Divisional Police Command arrived on the scene to restore calm.

The acting Chief of the Sarkin Zongo (predominantly Hausa-speaking community) in Kumasi, Ahmed Rufai Alao, in a statement stated the seven were well-known members of their community.

"It has come to the notice of the Sarkin Zongo Palace…that the seven persons shot by the police and whose bodies were making rounds in the media are indigenes and sons of the Zongo community," the statement read.
The statement added that they [Zongo authorities] are liaising with the families of the deceased to find ways to seek redress the right way.

"We, therefore, appeal to the Zongo communities, particularly the youth in Ashanti Region and Kumasi, in particular, to remain calm and peaceful in these trying moments…" the statement cautioned.

"We appeal to everyone to remain calm and refrain from any activity that will escalate the tension and grief that has again befallen our community," it added.

Meanwhile, Hon Simon Osei-Mensah inaugurated a five-member committee to independently investigate the circumstances that led to the killing of seven suspected robbers at Manso Nkwanta.

This was after several calls by families, community members and top politicians to investigate the shootout which claimed the lives of the seven men by Police Officers.