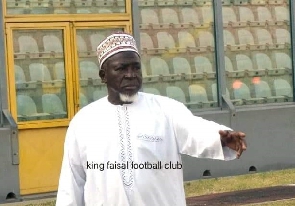 The owner of King Faisal Football Club, Alhaji Grusah has disclosed that the club will appeal the dismissed protest case against Tamale City.
The Kumasi-based club protested against the fellow Ghana Premier League opponent for fielding an unqualified player, Isaac Mensah in the said match who they claim has another registration in the system as Jireh Kojo Nissi.

After hearing the case, the Disciplinary Committee of the Ghana FA has dismissed it, insisting that the player was qualified to play against King Faisal.

Speaking to Akoma FM in an interview, Alhaji Grusah has indicated that his club will appeal the ruling.
He has vowed to take it up to CAS if he has to do so to ensure justice is served.

"We will appeal the ruling and progress to CAS if we are unsuccessful till justice is done.

This case will be heard before the remaining games are played in the GPL," Alhaji Grusah said.