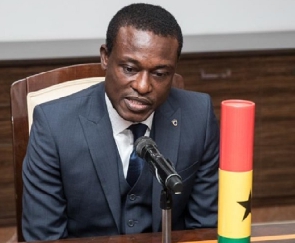 The Special Prosecutor, Kissi Agyebeng, has made his first public statement on the Inter-Ministerial Committee on Illegal Mining (IMCIM) report put together by the former Minister of Environment, Science, Technology and Innovation, Prof. Kwabena Frimpong-Boateng.
In a statement, the SP gave assurances that when the report is scrutinized, all those found culpable will be dealt with accordingly.

"The OSP welcomes the calls for action and investigations and it assures the public and civil society that its investigation is ongoing and far-reaching and it also covers the matters raised in the report published by the head of the dissolved IMCIM.

"The OSP will take necessary action against all persons deemed culpable of corruption and corruption-related offences in the mining sector," he said, a 3news.com report indicated.

Kissi Agyebeng's statement was part of his updates on illegal mining cases that are presently at his office.

The IMCIM report, which was authored on Friday, March 19, 2021, and presented to President Nana Addo Dankwa Akufo-Addo of Ghana, only recently came into the public view after it was leaked.
The contents of the report have cited some top officials of the present government, some of which work at the Jubilee House.

The report also started a lot of political tussles between a number of those cited in the report, and the author of the report, Prof. Kwabena Frimpong-Boateng.

Read his full statement below:



Watch the latest episode of People and Places below:




Meanwhile, watch the latest SayItLoud episode on GhanaWeb TV below:




Meanwhile, watch the latest episode of People and Places on GhanaWeb TV below:





Share your news stories and ideas with GhanaWeb


AE/WA