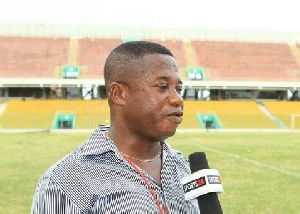 Kobina Amissah, former coach of Ebusua Dwarfs has said that a different coach must be given the opportunity to handle the Black Stars B despite Maxwell Konadu's heroics at the just ended WAFU Cup of nations.
He believes that WAFU victory was a good achievement but that was not the main objective of the team, rather a qualification to the African championships, which they have failed for the second time running would have been a better accomplishment.

Speaking to the Ghana News Agency on Tuesday, Coach Amissah said the nation must commend Maxwell Konadu's effort but it is only appropriate that the Ghana Football Association appoints a new coach, who could qualify Ghana to the flagship continental competition since Konadu has failed on two consecutive occasions.

"Although we won the WAFU tournament, the expectation was the CHAN qualification, so based on that, people would say Maxwell couldn't live up to expectation. I think he did well in the tournament, especially losing 2-0 against Nigeria and coming back to win 4-1 was amazing; he adopted a better strategy, which he couldn't employ in the CHAN qualifiers. We couldn't qualify because of wrong selection as compared to the just ended tournament.

"The objective of the team was to qualify for the African Championships and Maxwell failed to live up to expectation with regards to that. Imagine what would happen if Kwasi Appiah fails to qualify the main team to the Africa Cup of Nations.
"Maxwell succeeded in proving himself in the WAFU tournament but he has failed to achieve the set objective for the second consecutive time. I think he has done his best but the team must be given to another Coach to also try. That would even help him to focus on his job at the Black Stars.

"We have local coaches, who are equally good as Maxwell, we can give them the opportunity to exhibit their capabilities. Maxwell must even say that enough is enough, I have done my best for the team and someone else should also try", said coach Kobina Amissah.