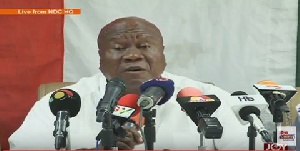 Acting General Secretary of the ruling New Patriotic Party (NPP), John Boadu is at a loss as to why the National Chairman of the National Democratic Congress (NDC), Kofi Portuphy will arm himself with an AK 47 rifle when the country is not at war.
He revealed that the fully loaded weapon is always in the vehicle of the opposition leader, yet he has the guts of accusing members of the current government of being the masterminds of recent killings .

"Kofi Portuphy has AK47 rifle in his car anytime while Ghana is not at war. …ask him what he is using the gun for?", the General Secretary of NPP alleged on Asempa FM's "Eko Sii Sen" afternoon political talk show.

He returned fire in equal measure to NDC for such a wild allegation leveled against the President over the recent killings

The Acting NPP General Secretary rather accused the National Chairman of the opposition NDC, of masterminding those killings he claims at a press conference are being perpetrated by members of NPP.

Addressing a press conference on Thursday, the NDC accused vigilante groupings in NPP of being behind the killing of a police officer at Lapaz while the President looks on unconcerned.
"The NDC leadership just want to remain relevant to their supporters after their hefty loss in the 2016 polls so they might get another opportunity to lead the party ", John Boadu told the host, Kojo Asare Baffour Acheampong.

According to John Boadu, NDC has no moral right to talk against violence even there is evidence to their allegations admonishing them to provide their evidence to the security agencies.

"They are talking from air. If they have evidence of those criminal acts they should assist police investigations", Mr. John Boadu also the party's national organizer challenged.