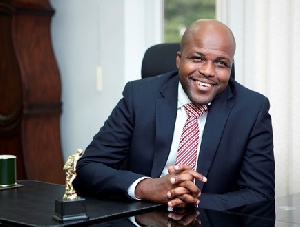 The CEO of Data Bank Kojo Addai Mensah has counted himself out of "ever" showing interest in the CEO position of Kumasi Asante Kotoko.
Kotoko are in search for a new Chief Executive Officer, following the exit of Mr George Amoako.

Mr Addai Mensah 's exploits in the banking sector have been hailed by many, urging him to stand up for the vacant Kotoko job.

But the former board member of the Kotoko Express newspaper believes there are better people to run the affairs of the club than he can do, urging Manhyia to bring in people who "understand the rules of the game".

"I am not interested in the vacant Kotoko C.E.O job and I don't think I will ever be interested in that position because I think there are a lot of people with vast experience in that field more than I do," Mr Addai said.

"The fact that I am successful at the banking field does not mean I will succeed as a club C.E.O and I think Kotoko should go in for people with in-depth knowledge in the running of football to occupy that position but I must say I'm grateful to be linked to such a huge platform."
Sharing his view on Kumasi based AshFM, Mr Addai bemoaned the continuous appointment and dissolving of boards, which he says has changed nothing at the Kumasi giants.

"On the issue of the board,I will say we have had board upon board and yet nothing has changed," he said.

"The challenge is we don't look for people who understands the rules of the game very well.

"Checking from the newly constituted board, only Mrs. Evelyn Nsiah Asare who happens to be in the game the rest are all from other field."

Kotoko are the most successful club in the Ghana as far as the league is concern but has failed to glitter at the continental stage since 1983 when they won their last CAF trophy.
The inconsistencies at the managerial level has been cited as one of the names of the club who are preparing to return to the Africa next season.

To Mr Addai, a shift in the managerial appointment of the club will help the club in their club move to the higher heights.

"If Kotoko wants to be successful,I think His Majesty Otumfour Osei Tutu II should look for company like Fenway Sports Group (FSG)of Liverpool and Fayenood partnership with WAFA whose main activities are sports so that they can run the club than forming individual board always," he added.