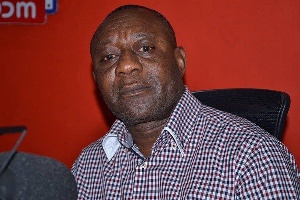 Former Member of Parliament (MP) for the Bantama Constituency, Henry Kwabena Kokofu, has described as "disgraceful", reports that his successor, Daniel Okyem Aboagye begged to be allowed to retain his seat unopposed in the ruling New Patriotic Party's (NPP) upcoming parliamentary primaries in April, MyNewsGh.com reports.
It was widely reported last week that the incumbent at a meeting with delegates and executives had gone on his knees to beg the party's chairman in the Ashanti region, Bernard Antwi Boasiako a.k.a Wontumi to consider him as one of the legislators who would be affirmed by the party in April.

The Government Spokesperson on Finance in defense of his action said, he was making a case in support of the chairman's plea for another term for the president and most likely NPP candidate for the 2020 polls, Nana Addo Dankwa Akufo-Addo, when the former had earlier gone on his knees to beg the party faithful to make his wish come true.

"While I was on my knees, I stretched my hand to Chairman Wontumi that I hear that some constituencies may go unopposed, in case you choose to pursue that, please remember us; our constituency too," he stated.

According to him, "…I ended by saying that four more years for Nana, four more years for Okyem".

But his predecessor thinks the gesture is disgraceful to the constituents of Bantama who have vouched for the highest standard of democracy all their lives.

"I had held my breath not to comment on issues relating to Bantama, but I have decided to break my silence now because the issues emanating from the constituency are unbecoming, especially with a few months to go to the primaries", he told Okay FM in an interview monitored by MyNewsGh.com on Friday 10th January 2020.
Kokofu, however, says he is "not surprised" that his predecessor had actually gone on his knees to beg because he has said on a lot of fora that he had "regretted contesting Kokofu in his first term because he has realised that it's not easy to be a first-timer in Parliament".

"He says Bantama has lost its pride of place in Parliament because he is a backbencher, all because we keep changing our MP every term, so it is not helpful for anybody to go just one term so he begs that he be allowed to go again", Kokofu reported Okyem to have said at an end of year party of the Bantama Keep Fit Club.

"I was very sad when I heard him say that; leadership is not cheap like tasting palm wine to see whether it is sweet or bitter before you decide to drink or not", Kokofu jabbed.

The parliamentary primary in the Bantama Constituency promises to be interesting in April as two bigwigs have emerged to contest the incumbent who is pleading to be made to stand unopposed.

Former MP, Henry Kwabena Kokofu and a Deputy Chief of Staff, Francis Asenso Boakye intends to give the banker and businessman a good run for his money.