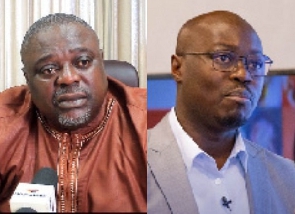 Samuel Koku Anyidoho, a former deputy general secretary of the National Democratic Congress (NDC), has taken a swipe at the Minority Leader, Cassiel Ato Forson, for what he describes as poor grammar.
Koku Anyidoho was reacting to a viral video of Ato Forson asking a question during the vetting of the Minister of State-designate in charge of Finance, Mohammed Amin Adam.

"… tricycles that don't have tyres that can not fry is cannot be find," a tired Ato Forson said during the vetting on Tuesday, February 21, 2023.

In a series of tweets shared on Thursday, February 23, 2023, Koku Anyidoho could not believe what he heard.

He said that the statement made by Ato Forson would make the late Queen of England, Queen Elizabeth II resurrect from her grave.

"Eish!!! What type of extremely baaad English grammar is this? The late Queen of England will wake up from the grave & ask us questions oooo. Is this the new face of my beloved party in Parliament? Kai!!!! Enimguase akwaaba.
"If a tricycle doesn't have tyres, is it propelled by wings? We now "fry" tricycles like "chofi", & if a tricycle refuses to "fry" it is "fined" huh? What crime did NDC commit to have such a bad Minority Leader? Asiedu-Nketiah shd bow his head in shame!" parts of the tweets read.

View a video of Ato Forson's remarks plus the Tweet by Koku Anyidoho below:


If a tricycle doesn't have tyres, is it propelled by wings? We now "fry" tricycles like "chofi", & if a tricycle refuses to "fry" it is "fined" huh? What crime did NDC commit to have such a bad Minority Leader? Asiedu-Nketiah shd bow his head in shame! pic.twitter.com/YWhFLjeSuv

— Samuel Koku Anyidoho???????? (@KokuAnyidoho) February 23, 2023
Eish!!! What type of extremely baaad English grammar is this? The late Queen of England will wake up from the grave & ask us questions oooo????????????. Is this the new face of my beloved party in Parliament? Kai!!!! Enimguase akwaaba. pic.twitter.com/dTqlzLaDw0

— Samuel Koku Anyidoho???????? (@KokuAnyidoho) February 23, 2023
Meanwhile, catch the latest GhanaWeb TV Election Desk interview with Francis Addai-Nimoh, as he discusses his plans to become the NPP's flagbearer, below:




You can also watch this episode of People & Places on GhanaWeb TV below:



IB/