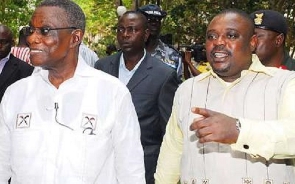 The founder and president of the Atta Mills Institute, Samuel Koku Anyidoho, has narrated how the late former President, John Evans Atta Mills, once fired him from his role at the presidency and later changed his mind.
Speaking in an interview on the Kafui Dayi show, Anyidoho said that Prof Mills fired him from his position as the director of communication at the presidency after he defied orders regarding his son.

He added that Prof Mills changed his mind after the people he explained his decision to defy the former president's order, pleaded on his behaviour.

"My boss was mad, he told me not to do it (an issue regarding his son) but I did it for good reason. So, he said 'I don't want to see you in the office again, that is the end of the relationship, you disobeyed me and that is it'.

"I thanked him for the opportunity to serve… But knowing very well that the people I have conspired with would help me.

"I made them (the people he conspired with) understand the man said I should do it, I don't have the luxury of time to explain to him why I have to do it but I would do it and there would be a fallout. When there is a fallout, please back me," he narrated.
He added that after Prof Mills asked him to resign, he started "dramatically packing out" as the people he conspired with, including the president's police security and his niece, went to the president to plead on his behalf.

"Before I could say jack, they said he was calling me. So, I went back upstairs, still with my eyes watery. He said look Koku, I didn't want this, I didn't want my son to be dragged into this politics. Look this is your first and last and then I knew that my salvation had come," he said.

Watch the interview below:



BAI/OGB
Watch the latest episode of the Lowdown on GhanaWeb TV below: