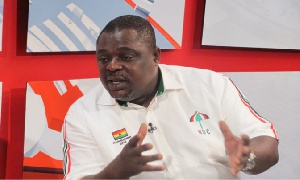 The Deputy General Secretary of the opposition National Democratic Congress (NDC), Koku Anyidoho, has rubbished findings of the Political Science Department of the University of Ghana over a survey.
He said the survey was "not deep enough".

According to the NDC Deputy General Secretary, "you cannot use 11-days to do any deep research".

He admitted, nonetheless, that it adds on to the discourse.

The survey revealed that 62 per cent of Ghanaians were pleased with the New Patriotic Party (NPP) government's performance in office so far.

The findings of the survey also revealed that 64 per cent of respondents backed the creation of the Special Prosecutor's Office with 49 per cent of the 5,000 voters sampled endorsing the Free Senior High School (SHS) programme while 37 per cent approved of the campaign against illegal mining.
Commenting on the population of the survey on 3FM's Late Edition on Wednesday, Mr Anyidoho said: "I have spoken to more than 5,000 people since the last election, and my ideas of what people feel like is totally different".

He, therefore, sees the findings as a mere academic work.

"Nobody can take away their academic credentials as a group of lecturers. Well, they are into Political Science, they must do some research work, and they must justify some findings that may come their way in the work that they do…."

He, therefore, said that it is early days yet to assess the government given it has a four-year tenure.

"Of course, it is the first year of the NPP so definitely people will still hang on to hopes of straw. Don't forget that surveys and voter behaviour cannot be held constant. [Therefore] a lot of things will change by 2020."
In his view, even a few days into 2018, some issues have started cropping up.

"DVLA monster that almost eat us up, the decongestion in Accra, Kumasi, and elsewhere is making traders cry and scream openly on television 'we are NPP and this is not what you promised us, we are suffering, we are dying, we are challenged'."

He added: "Prior to the 2016 election, Abronye DCE, the chief executioner, who was going after the NDC, is now going after his own people calling them corrupt."

He compared a possible change in views to what happened in the US.

"Who knew Donald Trump will be president? All the surveys said Hillary Clinton was going to win but here we are and Donald Trump is President of USA."