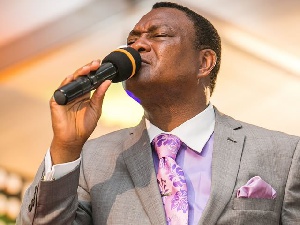 The Chief of new Denkyira Obuasi, Nana Adjei Nkyire II, has described as empty the prophesy by the General Overseer of Royal House Chapel that the youth of the town have been cursed.
Denkyira Obuasi dominated the headlines in June following the lynching of a young military commander in the town. Major Maxwell Mahama was slayed with broken blocks, cudgels and shot several times by a marauding mob in the Upper Denkyira district following a false alarm that he was an armed robber.

Speaking during a 30-day prayer and fasting event at Cedar Mountain Chapel Assemblies of God Church, East Legon, Rev. Sam Korankye Ankrah pronounced no youth will go past 33 years in the town – the age of Maj. Mahama when he was murdered in cold blood.

Rev. Ankrah who also serves as the Apostle General of the Royal House Chapel International, a church in Ghana with more than 30,000 members, also prophesied that there will be no leader in the town, having killed a commander of an army.
But in his reaction, Nana Adjei Nkyire II dismissed the prophesy as empty saying "whatever someone is saying is out of the line. If he or she is a man of God and is coming up with such an issue what about those who came there to baptize the people."

Speaking to Starr News, he said the people are "just trying to capitalise on the issue" to gain media attention.