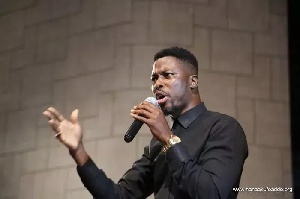 "Mr Kweku Baako, this is not a small issue; I know that you yourself do not know that we don't have an end to end system that will tell us exactly how many beds are empty and exactly how much money we are making; you don't even know that…but people like us we will not sit down and watch" musician Kwame Obeng Asare, popularly called A Plus has said.
His comment follows Kweku Baako's reaction to the A-Plus/Jinapor/Korle-bu saga on Joyfm's Newsfile programme.

A-Plus had accused the two Deputy Chiefs of Staff of putting pressure on the CEO of Korle-Bu Teaching Hospital, Dr Felix Anyah, to give back a revenue-collection contract to UniBank after the same contract had been given to a wholly-foreign-owned bank.

The Editor in Chief of the New Crusading Guide newspaper on Saturday said A Plus appears to have been appointed officially or unofficially as the Special Aide to the acting CEO of the Korle Bu Teaching Hospital.

In a video on his facebook page, A-Plus said even though he admires Kweku Baako, 'he (Baako) does not understand the situation'

"When they say I should choose the top ten Ghanaians, I will add kweku baako…I think he himself does not understand the situation; everybody can insult me I don't care… I will continue talking and talking and talking...I am here for Nana Addo…everybody who wants a second term for the NPP; open your eyes" he said.
Meanwhile, A-Plus has rendered an apology to Samuel Abu Jinapor and Francis Asenso-Boakye for wrongly accusing them of corruption as far as the Korle-bu saga is concerned.

According to him, "now that I have come to understand that Abu does not even understand the issue, I will go ahead like I've said already and say I apologise for how I put this whole thing out; yes, because listen to him [Abu]: he does not even understand the issue. People have lied to him. Look at what he said, if he was being honest on radio, I have the impression that he was being honest, and that is all that they told him, then they have deceived him...the issue is that every Ghanaian watching me today ask yourself how can we have a government institution that can't tell how much money it makes?"