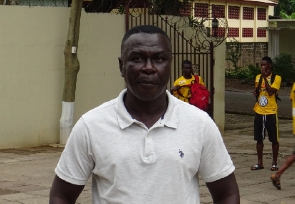 Former Kumasi Asante Kotoko player and coach, Frimpong Manso, has said that Steven Mukwala Dese, the Kotoko Ugandan import, has the capabilities to replace Franck Mbella Etouga.
He also added that he only needs to improve on "his goalscoring rate."

When former Kumasi Asante Kotoko goal poacher Franck Mbella Etouga left the Kumasi club for Al Masry in Egypt, there were several concerns about whether the Porcupine Warriors would be able to recruit another lethal striker in the shape of the Cameroonian striker.

In the previous league campaign, 2021–2022, where Kotoko clinched the league title, Etouga scored an impressive 21 goals.

The club's search for a replacement led them to Uganda after they identified Ugandan international striker Steven Mukwala Dese as the ideal replacement.
The 23-year-old striker's goal totals are quite impressive as Etouga's and you can't knock his work rate, the former Kotoko coach praised but admonished Dese to improve on his scoring rate if he wants to match the numbers Etouga recorded during his time at the club.

Speaking to Class 91.3 FM on Thursday, 2 February, 2023, Frimpong Manso said this about Steven Dese: "He is a very hard-working guy.

"You could see him always chasing the ball and fighting for every ball, but he has a scoring problem.

"He creates chances, but then, his finishing—if he is able to improve on his scoring rate, I think, maybe, he can do that [scoring as frequently as Franck Mbella Etouga did] because he is doing well for the team, and I could see."
Comparing the two strikers, the ex-Kotoko coach remarked that they are not necessarily the same kind of players as they are very "different" from each other.

For him, Etouga is a "finisher" compared to Mukwala Dese, and was only keen on putting the ball in the back of the net; hence, his good goal-scoring return.

"But the other guy, [Franck Mbella Etouga], was a finisher."

"Any time he is in the box, he doesn't miss opportunities like Mukwala.
"He [Mukwala Dese] is hard-working, but his scoring rate is also [a bit low]," he assessed.

Steven Mukwala Dese scored twice in Kotoko's matchday 16 game against title contenders Accra Lions at the Baba Yara Sports Stadium in Kumasi.

His two-goal showing pushed his numbers up to 8th on the goal-scoring chart.

Frimpong Manso believes that this is: "very good for him.
"But, even this time around, I think he has started scoring, which is very good for him."

He reiterated that the two players are different, saying, "For me, I think the two of them are two different players; one is a finisher, and then one is also the pressure type—always harassing the defenders."

If the Ugandan international striker, Steven Mukwala, will ultimately be able to replace Mbella, he only needs to do one thing, according to Frimpong: "Improve his scoring rate."

In his debut season at Kotoko, Mbella, with 21 goals, missed out on the goal king award as he was outscored by former Ashanti Gold attacker Yaw Annor, who scored 22 goals and left for Egyptian side Ismaily SC.