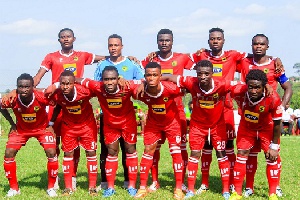 The second oldest club in Ghana Kumasi Asante Kotoko is hopeful of playing on their own pitch when the new season starts. The team established in 1935 cannot boast of own stadium and other basic infrastructure, but Club Chairman Dr.
Kwame Kyei plans to construct an edifice which could be called their own in the shortest possible time.

The Kumasi-based club plays their home match at the state-owned Baba Yara Sports Stadium.

Speaking to Onua Sports, the Communications Director of the Greater Accra Circles Council of the club who doubles as Hot Circle 2 PRO Nii Darko recalled his encounter with the astute businessman when he welcomed the Club Chairman to the Sagakope stadium.

"Immediately Dr Kyei sat down the first thing he said was that, Nii but we can also build something like this and I responded yes Dr. we can do it. He then said lets pray for the successive end of the season." Nii Darko added that " Kotoko has a vast land at Adako Jachie.
The man (Dr. Kyei ) has started travelling with regards to football- related issues and we need not to put excessive pressure on him, he needs to settle and put structures in place".

He told Onua FM's Frank Osei Owusu that Dr. Kyei assured him that after the season, whatever is deemed appropriate for Kotoko will be implemented.

It is evident that the availability of a pitch is a reason why the Sagakope side has been on top form in the GPL recently, he said, believing because the WAFA players are camped at the stadium and do not reside in town, the players are much concentrated on any game. "Imperatively their lives are monitored to be disciplined," he suggested.