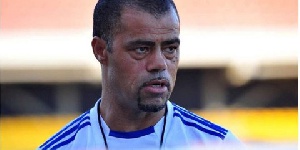 There are no issues to worry about as the Porcupine Warriors get ready for Sunday's 2016/17 Premier League, outstanding match against Hearts of Oak at the Baba Yara Sports Stadium. That was the most prominent development picked out of Tuesday's media interaction organised by Management at the Sports Hotel, Kumasi.
"The players are okay to play on Sunday, except Ollenu and Akuffo" said the Head of the Medical Team, Dr. Michael Leat. "Baba Mahama will be ready on Sunday, he's fit to play" he added, stressing that, the medical team wouldn't risk any unfit player to return to the pitch. "I won't force any player to play when he's not fit, they are okay. That's why we decided to play on Sunday" he stated.

Asked about the fitness level of midfielder, Emmanuel Gyamfi, who's reportedly injured in the camp of the home based Black Stars, Dr. Leat said: "We are yet to receive the medical report from the Black Stars Team B medical team". Gyamfi is one of five Kotoko players in the camp of the national team, who're preparing for the 2018 Chan qualifiers against Burkina Faso.

Dr. Michael Leat also touched on the team bus driver, Joseph Kwasi Berchie. He disclosed that, Berchie, who's still on admission at the Komfo Anokye Teaching Hospital (KATH), Kumasi, would have his final surgery this Friday.

Taking his turn to answer questions, Coach Steven Polack buttressed the point by the medical team. "My players are ready for Sunday, and we are going to take the three points" said Polack.
"First of all, every player has to be ready for every game, what matters most, is type recovery they go through, after games" Polack added before disclosing that, whether or not he would be available on the bench is an issue that would be determined by the medical team.

"The doctors will decide whether I should be on the bench or not" he said. Trauma Nurse, Emmanuel Osei Owusu answered questions on the psychological make-up of the players. He said the players were mentally tough and well-prepared to return to the pitch. "Our team contains competent characters, who are ready to deliver on any day" he stressed.

Head of Communication, Obed Acheampong announced that, the team would play a friendly match against Nacosta FC on Wednesday at the Baba Yara Sports Stadium. He further urged Kotoko fans to turn up in their numbers for Sunday's Super Clash. "Let's show true love to our players on Sunday by filling the stands and cheer them to victory".

Ashanti Regional Circles Council (ARCC) Chairman, Obeng Sekyere and the National Circles Council (NCC) Chairman, Kwaku Amponsah were also present at the well-attended media event.