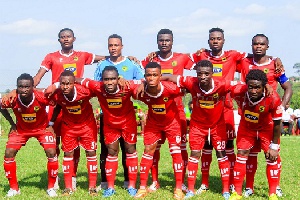 Asante Kotoko have disassociated itself from an alleged sponsorship deal with Charger Limited, producers of Happy Man Bitters, which is an alcoholic beverage.
According to reports, the contract was signed by chairman of the club's supporters union without the consent of management.

This has led to a strained relationship between the club's top hierarchy and Kwaku Amponsah, nicknamed 'K5'.

Kotoko Executive Chairman Dr Kwame Kyei has threatened to step down if the matter is not resolved.

A statement on the club's website read: ''It is of public knowledge that Charger limited, producers of Happy Man Bitters, and the National Circles Council of Asante Kotoko have entered into a partnership agreement for the mutual promotion of the activities of both parties.
''The management of Asante Kotoko SC would like to bring the notice of the general public that contrary to emerging reports, the club is not a party to the agreement as this is purely by the supporters wing.

''Management has also not consented to the use of the official logo of the club in endorsing the product Happy Man Bitters.

''Management assures of continuous efforts to seek avenues to bolster the financial base of the club and in seeking to do so, will do everything to protect the image of the Kotoko brand. The general public is duly notified.''