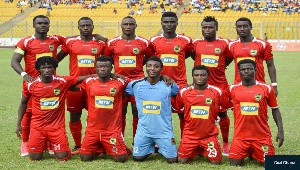 Administrative Manager of Dreams FC Ameenu Shardow has asked Asante Kotoko to accept the collective decision of the Ghana FA not to submit representatives for the 2018/19 CAF Inter-Club competitions.
A meeting between representatives of national league clubs and the Normalisation Committee resolved not to have Ghana participate in the next edition of the CAF Champions League and Confederation Cup due to the current state of Ghana football.

Competitions that determine representatives for African competitions remain suspended due to the Anas expose.

Kotoko are however seeking refuge in a CAF regulation that allows them to participate in the Confederation Cup by virtue of their FA Cup feat last season.

This privilege is however dependent on whether the GFA so wishes to submit representatives to African club competitions.

Ameenu Shardow who represented Dreams FC at the meeting however feels Kotoko are being selfish in their demand.
"The debate on this particular issue was thoroughly exhausted at the meeting and in the end a decision was made in the best interest of Ghana football," Shardow told FootballmadeinGhana.com.

"With the decision taken, it is only up to us members to abide by it even if we don't agree.

"It is out of place for individual clubs to be canvassing opposing views and pushing for the reversal of a decision that was thoroughly discussed and taken by a whole body.

"This is not the time to promote individual interests over that of a collective group."

Kotoko have meanwhile submitted a petition to the Ghana FA seeking to reverse the decision not to submit them for the CAF Confederation Cup.