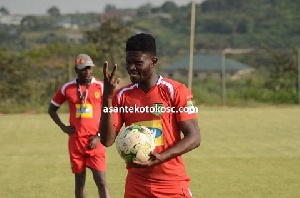 Former -Mjällby AIF star and Asante Kotoko midfielder Kwame Bonsu is unhappy with the tag 'ex-convict' used to describe him especially by some section of the media.
The 24-year old was convicted of rape in Sweden and served a year in prison before released and deported back to Ghana.

Bonsu since then has seen a meteoric rise in his career after that incident showing some impressive performances for Kotoko in the ongoing CAF Confederation Cup leading to a national team call up.

He has been called up for the Black Stars upcoming AFCON qualifier against Kenya on March 23.

Bonsu has expressed his worry over the name tag.

"I have actually moved on to be honest, sometimes reading those kind of headlines makes me feel some kind of hatred for my ex or the country (Sweden) I came from," he told Silver FM in Kumasi.
"But I can't change how people think, what people want to write. Sometimes they want to get the attention of their readers but I don't think this should be the situation.

"At least I'm a Ghanaian; we should protect our own. It's not about pleading; it's about time we need to grow.

"I'm not saying this for people to feel pity for me, no!

"I have psyched myself and I know what to achieve in life. People can write say what they want and how they want based on what they know or think.

"But at the end of the day is their problem, not mine. I just focus on the positive things."