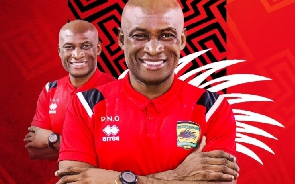 Ghanaian coach, Abdul Karim Zito has attributed Asante Kotoko's struggles this season to the absence of a right coach like Prosper Narteh Ogum.
In an interview with Akoma FM, Coach Zito stressed the importance of having a coach well-versed in youth development when integrating young players into a team.

He expressed his confidence in Prosper Ogum, who had previously been in charge at Kotoko, citing his expertise in developmental football.

Zito made it clear that the issue at Kotoko lies not in the recruitment of young players; but rather, in a coaching problem.

"When a team recruits young players and the coach lacks knowledge about youth development, things will fall apart," Coach Karim Zito emphasized during the interview.

"I had great confidence in Prosper Ogum because of his extensive knowledge of developmental football. I believed he could deliver at Kotoko even though the players were young and new. However, if it had been any other coach, I would have had some doubts."
Zito also pointed out the negative impact of Kotoko's decision to appoint Seydou Zerbo as coach. He attributed the team's current problems to the challenges faced by a new coach inheriting a team he didn't build.

"All these problems arose as a result of a new coach taking charge. It wouldn't have been easy for him to perform with a team he didn't assemble. Navigating this challenging situation requires the expertise of experienced coaches," commented Zito, who also serves as the head coach of the Ghana U-17 national team.

Asante Kotoko who are 6th on the log are gearing up to face Kotoku Royals in a Week 31 fixture of the Ghana Premier League on Monday.

JNA/BB