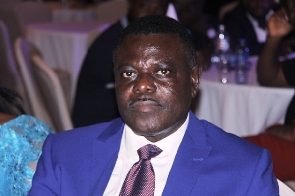 Former Asante Kotoko National Chapters Council (NCC) Vice Chairman, Emmanuel Boamah says the club is struggling to constitute a Board because nobody wants to work with Executive Director of the club Dr Kwame Kyei.
Asante Kotoko has been directed to constitute a Board by the Club Licensing Board and failure to do so will result in the team fined GHc 20,000 and also relegation from the Ghana Premier League.

Happy Sports understands some members who have been approached to take up the role, have rejected.

According to Emmanuel Boamah, Kwame Kyei has bad managerial skills and nobody is willing to work with him at the club.
"When he was appointed we all knew Dr Kwame Keyi cannot do the job because he knows nothing in football. We suggested some members to help him in managing the club but he rejected.

"Now the club is mandated by the Club Licensing Board to form a Board and nobody is willing to take that role. I will blame Dr Kyei for the current woes of the club", he told Happy FM

He added: "It is time for him to leave the club and we are praying Otumfuor will call him to the Palace. If Dr Kwame Kyei lasts more than a year at the club he will run the club into debits. During his tenure, Asante Kotoko has not benefited in any player transfer".