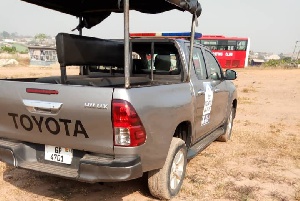 Asante Kotoko had to invite the Police for protection at their training grounds following rumours of a ploy by fans to sack coach Charles Akonnor.
Rumours suggest that a notorious fan of Kotoko 'Seidu' was going to lead a gang of like-mind fans to prevent Akonnor from presiding over Tuesday's session.

It will be recalled that the same 'Seidu' led a charge in a similar fashion to prevent Zradvko Logarusic from training his team while he was coach of Kotoko.

The Serbian trainer was a day later sacked by the club.

Irate fans of Kotoko have already started complaining about the style of play of their team to put undue pressure on Akonnor who has been at the helm for just three months.
These fans point out to the performance of their team in the 1-1 draw with AshantiGold in the JAK Cup as ample proof of the team's ailing fortunes.

But management in a move to protect Akonnor and the team called in reinforcements from the police to their Adako Jarchie training site.

The team is currently in training as they prepare for their CAF Confederation Cup match against Coton Sport which will be played at the weekend.