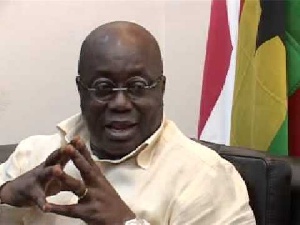 Tue, 23 Apr 2013 Source: Joy Online
Former Supreme Court judge Justice Francis Kpegah will later Tuesday morning come face to face with New Patriotic Party (NPP) flagbearer, Nana Akufo-Addo over allegations the 2012 NPP flagbearer is not a lawyer.

Justice Kpegah filed a writ at the High Court claiming Nana Akufo-Addo is holding himself out as a lawyer, when evidence available to him proves otherwise.


He insisted the NPP flagbearer was never called to the Ghana Bar but is impersonating one W.E.D Akufo-Addo who was called to the middle temple in the United Kingdom in July, 1971.


However a recent document from the General Legal Council has confirmed Nana Addo Dankwa Akufo-Addo's enrollment details on the roll of lawyers.

In his response to the writ, Akufo-Addo described Justice Kpegah's suit as not only frivolous and vexatious but also unworthy of hearing by the High Court.


He said Justice Kpegah should be punished for his frivolities in instituting the action.

Source: Joy Online