'Kuami Eugene is talented beyond his age, he's a good person, I've improved since knowing him' – Obibini Takyi Jnr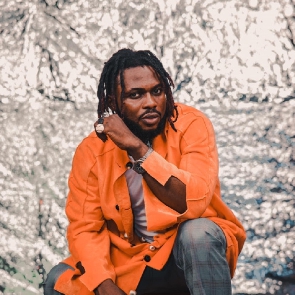 Obibini Takyi Jnr (OTJ) has revealed who Eugene Kwame Marfo, alias Kuami Eugene, is away from the public eye.
OTJ said this guesting on Accra 100.5 FM's Entertainment Capital, Saturday, September 16, 2023.

He was speaking about track 3 on his New Legacy EP, titled Shame, when he said even though he wrote the song, during the creative process, Kuami Eugene, the song's producer, "would say put this here and this there".

He took a moment and praised the Highlife/Afrobeats star Eugene "as very good and talented".

"He's young but if we're talking about music, it's clear, he knows music very well," OTJ remarked.

The son of Highlife star Obibini Takyi of Akosombo Nkanea fame, he revealed he has "learned a lot from him [Kuami Eugene] since I got close to him".
OTJ testified that his music talent has greatly improved since he began working with the Lynx/EMPIRE singee Kuami Eugene.

Sit-in host Prince Benjamin (PB) wondered who Eugene is away from the public eye.

Behind the scenes, "Kuami is a good person," Obibini Takyi Jnr answered.

He said he is often with Kuami Eugene and two other musicians.

He added, it is common to find them "together eating fufu we have pounded and laughing heartily".
OTJ stressed, however, that Kuami Eugene does not joke with work even though he enjoys fun and company.

"If you see Kuami looks serious, it means it is time for work," he said.

"He does not joke with his work, and he does not shy away from rebuking you even if you are older than him or he is friends with you," OTJ noted.

According to OTJ, who has a hit featuring Kuami Eugene titled Sika No Ashi, they go out to play football every Sunday.

"Kuami is a very good person," he stressed in conclusion.