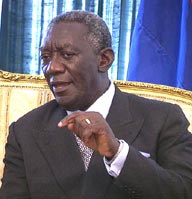 Wed, 16 Aug 2006 Source: Ghanaian Times
Accra, Aug. 16 (Ghanaian Times) -- President John Agyekum Kufuor says he was compelled to comment on certain aspects of the cocaine scandals in an address to party faithful in Accra on Saturday because there was clear evidence of an orchestrated attempt by some people to subvert the economy.

"As Head of State of this nation, I cannot sit unconcerned when unscrupulous members of society with links to a leading political party, aid foreign drug barons to damage the hard-won reputation of Ghana in their desperate attempt to seek power," he stressed.


President Kufuor was speaking exclusively to the Times at the Castle on Monday.


He said security reports were clear that some leading members of a particular political party were visiting some countries in Latin America, well noted for the underworld drug trade.


"They leave the country under the guise of visiting other destinations, say South Africa or Europe. They then divert their course to Colombia, Ecuador and Venezuela. We have information on all their diversionary tactics."


He said that at a time when the international comity of nations were beginning to have confidence in the Ghanaian economy, it was callous for politicians seeking the mandate of the people to try and undermine the nation.

"When I was returning from the United States after the signing of the Millennium Challenge Account, I thought I was coming back into a country where the people would appreciate the efforts we are putting in to resuscitate the economy, only to be hit by the cocaine scandal. It is disheartening and it hurts," he said.


The President expressed regret about the alleged role of some police officers in the scandal but asked Ghanaians to demand to know who were the main characters behind the plot to bring the ship into this country in the first place.


"It is the duty of all of us to help to expose the shadowy characters behind this audacious attempt to undermine the economy.


What will the people of the nations helping to bring us out of the woods think of us? That we are taking their money to put into drugs?" he asked.


President Kufuor said he was disappointed that the freedom given to the media to lead society to restructure itself was being used by some media houses as licence to allow shadowy characters to insult and cast insinuations at the Presidency.

"Freedom of the media is no licence, for a radio station to give air space to an individual to go bananas," he said, alluding to a programme on an Accra FM station at which Robert Joseph Mettle Nunoo also known as 'Kojo', until recently a Communications Director of Professor John Evans Atta-Mills' presidential campaign team, reacted to the President's address to NPP members in Accra on Saturday.


In the President Kufuor said the National Democratic Congress cannot exonerate itself from the recent cocaine scandals since Mr Mettle-Nunoo leading NDC member had admitted providing consultancy services to the Venezuelans at the centre of the scandal.


The following day, Mr Mettle-Nunoo was said to have rebuffed the President's accusation on an Accra FM station, referring to the President's comments as "irresponsible."

Source: Ghanaian Times