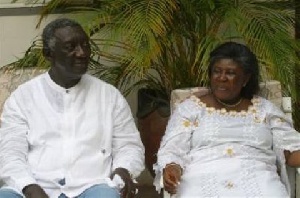 Mon, 27 Oct 2014 Source: Daily Post
Former President John Agyekum Kufuor on Saturday showered praises on his wife, Mrs. Theresa Kufuor – whom he described as an ideal wife and the best thing to happen in his life – for their 52 years of matrimonial life.

Virtually telling a love story to a colossal and attentive audience Friday evening, Mr. Kufuor narrated how he met his wife, then a nurse, and how he managed to get her to the altar 52 years ago.


Mr. Kufuor, without mincing words, stated emphatically that proposing to Theresa was the best decision that he had made in his life, attributing his successes to the hearty support of Mrs. Kufuor.


He disclosed that "We have married for 52 years now, and I have enjoyed marrying such a lovely, caring and supportive woman," and the crowd responded with wild cheers.


Describing the former first lady as a caring and better wife, he recounted how his wife had stood behind him through thick and thin, adding that he made the right decision by marrying the woman.


The former president, dressed in all white, was speaking during a plush birthday party organized for Mrs. Kufuor by Breast Care International (BCI) Ghana, led by Dr. Mrs. Beatrice Wiafe Addai.

Mrs. Kufuor, who was also dressed in all white apparel, could not help but to nod her head in appreciation as the charged crowd yelled in ecstasy to listen to Mr. Kufuor narrate his love story.


Ace Musician, Akosua Agyapong, an ambassador for breast cancer, was there to provide scintillating music to entertain the large crowd that jammed the Tyco Auditorium, venue of the event.


The former first couple did not know anything about the mega birthday party barely 24 hours before Mrs. Theresa Kufuor marked her birthday, which fell on Saturday, October 25. They therefore became hugely surprised when Dr. Beatrice Wiafe Addai, who is also the CEO of Peace and Love Hospital, in the course of the programme, announced that the event was a birthday party for Mrs. Kufuor.


Mr. Kufuor and his wife were in the Brong-Ahafo Regional capital, ostensibly to attend a dinner organized for survivors of breast cancer by Breast Care International Ghana.


The dinner was to precede this year's annual BCI Ghana 'Walk for the Cure' event, scheduled for Sunyani on Saturday to create awareness about the deadly disease.

Continuing his love story, Mr. Kufuor whose demeanour portrayed a person in a happy mood, prayed fervently to God to grant more years to his wife so that they could continue with their love journey.


Dr. Mrs. Wiafe Addai, in her succinct remarks, described Mrs. Kufuor as a mother and thanked God for adding another year to her life.


The event was climaxed with the cutting of a birthday cake. 'Birthday girl,' Mrs. Kufuor, was joined by her husband and Dr. Mrs. Wiafe Addai to cut the cake.

Source: Daily Post