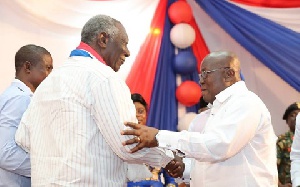 Former President John Agyekum Kufuor has wished President Nana Addo Dankwa Akufo-Addo long life as he celebrates his birthday.
Mr Akufo-Addo is 74 years old today, Thursday, 29 March 2018. He was born in Swalaba, Accra. He was brought up in Ga Maamli (Accra Central) and in the Nima area of Accra.

He served in the Kufour-led government as Minister of Justice and Attorney General and later as the Minister of Foreign Affairs.

Mr Kufuor played an instrumental role in the victory of the New Patriotic Party (NPP) in the 2016 elections, making Mr Akufo-Addo the 5th President of the Fourth Republic.

Touching on the flagship programme, the Free Senior High School, introduced by Mr Akufo-Addo, the former president said, while speaking on Ghana Yensom on Accra100.5FM hosted by Chef Jerry Forson that: "Free SHS has come to stay."
The Free Senior High School programme was launched in September 2017 to make secondary high school free for students in Ghana.

The president's vision is to see a Ghana beyond aid in the nearest future.

He is married to Rebecca Akufo-Addo, the daughter of judge, Jacob Hackenburg Griffiths-Randolph, the Speaker of the Parliament of Ghana during the Third Republic. They have five daughters.