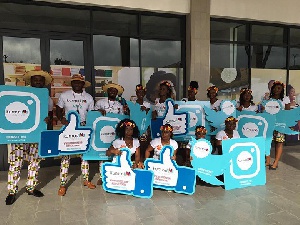 The Kumasi City Mall has finally been commissioned for business today April 20, 2016 attracting hundreds of residents within the Garden City.
The facility which is the biggest ever in the history of the region is stocked with a lot of items both local and foreign.

According managers of the facility, it is meant to give residents of the Golden Kingdom a real shopping experience

Prior to today's opening the King of Asante Otumfuo Osei Tutu II and Lady Julia visited the facility and were conducted round by managers to enable them acquaint themselves with the multimillion dollar shopping mall.

South African property developer and investor, Atterbury Propert is credited to have put up the structure on 18500m² space.

Christened the Kumasi City Mall, the facility was constructed at a cost of US$95million. It is Atterbury's fourth successful retail mall in Ghana, following on the heels of a trio of developments in Accra – [Achimota, Westhills and Accra malls].
Atterbury said the mall, with potential for a future 10,000m² expansions, would give the city of Kumasi its first one-stop environment with shopping and entertainment under one roof when it opens on April 20.

Kumasi City Mall's anchor tenants are Shoprite and Walmart brand Game Stores, with a retail mix including food, convenience, banking, services, fashion, electronics and a cinema, club and children's games for entertainment.

The facility will be managed by AttAfrica, who would be responsible for its day-to-day running and operations.

Cobus van Heerden, retail director at Atterbury Property Development, told the African News Agency that this was the first big development the company had undertaken in Kumasi.