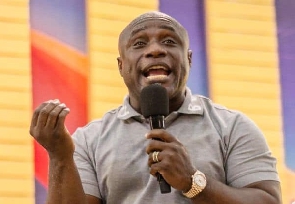 Secretary and Board of Trustee Member of the National Cathedral of Ghana, Rev. Victor Kusi Boateng is a man of credibility and integrity, contrary to the allegations of criminality leveled against him by North Tongu Member of Parliament, Samuel Okudzeto Ablakwa.
The above testimony was contained in court papers date May 25, 2023; and signed by Mayor Harold Moore as part of witness statement for the clergyman in his case against Ablakwa, where he pleaded with the court to stop Ablakwa from publishing 'defamatory' material about him.

Harold Moore, described Kusi Boateng as a man who had provided spiritual guidance to himself and his family, "I consider him as a spiritual father," he added before listing other African presidents Kusi Boateng engages with.

"I am aware of other high profile persons who the Plaintiff also provides spiritual guidance to. I have interacted with some persons who have shared their testimonies as a result of the grace of God at work in the Plaintiff.

"I know of the relationship that the Plaintiff has with George Weah, current President of Liberia, William Ruto, current President of Kenya and Mrs. Damtien L. Tchintchibidja, who is the current Vice President of ECOWAS."

Even though Moore stated knowing the clergyman as Victor Kusi Boateng, he has also known that he identifies as Kwabena Adu Gyamfi.
When the court ruled on the particular case this week, it rejected the claim that Kusi Boateng and Adu Gyamfi were the same person stating that the court did not know who of the two had approached it.

A summary of the ruling also noted that the manner in which the two names was being used concurrently had elements of lack of transparency and in some instances bordered on criminality.

Ablakwa is now left with a defamation case to slug out with the clergyman having defeated him on a contempt application and on the suit to stop him from making publications on Kusi Boateng.

SARA

Watch the latest episode of The Lowdown:




In the meantime, watch the latest episode of #SayItLoud on GhanaWeb TV with Etsey Atisu below:




Share your news stories and ideas with GhanaWeb




To advertise with GhanaWeb