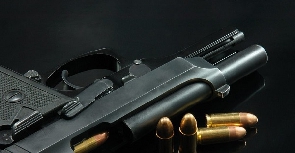 Two out of six suspected armed robbers who allegedly led the attack on the Kwabenya Police Station in Accra – which led to the death of a police officer and the release of seven inmates in police custody – have been gunned down by the police.
They have been identified only as Raymond aka Dragon and Kwame aka Mafia.

They were said to have engaged the police in a gun battle at their hideout at the Pantang landfill site yesterday.

The Accra Regional Police Commander, DCOP George Alex, who briefed the media, said the police had no option but to return fire after the two suspects had opened fire on them.

The names of the two suspects popped up during police investigation.

Their purported accomplices arrested earlier were identified as Kofi Seshie – the man who allegedly pulled the trigger and killed Inspector Emmanuel Ashilevi – Sarba George, 23; George Asante, 33; Theophilus Banda, 25 and Elvis Owusu, 31.
However, one person is still on the run and is being hunted by the police.

Meanwhile, four of the jail breakers – Dickson Ofori, 24, who was on remand for robbery; Chibuzor Akwabu, 34, a Nigerian also on remand for robbery; Edem Rockson, 32, on remand for stealing and Emmanuel Kotey, 21 – are still on the run.

Inspector Emmanuel Ashilevi, the Ashongman Police Station Officer, who was killed, will be laid to rest today after a memorial service at the Atomic Hospital Park.

It would be recalled that six armed men on Sunday, January 21, 2018 at about 1:30 am, raided the Kwabenya police station, shot Inspector Emmanuel Ashilevi in the process and freed seven cells inmates.

Police reports have indicated that a man suspected to be a Nigerian first reported at the station, saying he was going to lodge a complaint.
Suddenly, he left with an excuse that he was going to fetch something from his car.

Unknown to the police, the other accomplices had parked their motorbikes at the Kwabenya roundabout and were walking to the station.

When they arrived there, three of them marched to the charge office together with the first suspect to attack the counter NCO while the other three, fully armed, waited outside to ward off any intruder.

Inspector Ashilevi had then arrived and had called the patrol team to come over to pick him to check on the men stationed at the various flash points.

Upon hearing the shouts coming from the charge office, he, wearing a police pair of trousers and plain cloth, alighted from the vehicle and attempted to move to the charge office to save the situation when he was shot dead.