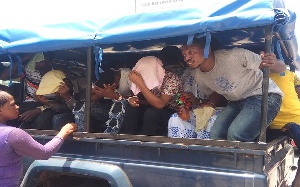 The trial Judge in the Kwabenya jailbreakers case, His honor Aboagye Tando has served notice he will not tolerate any more delays from prosecution.
When the matter was called, the prosecution Superintendent Kwaku Bempa pleaded with the Judge to adjourn since they are not ready for hearing to commence today.

His honor Aboagye Tando, who was not happy with the excuse cautioned prosecution to put their house in order for the hearing to commence in the next adjourned date. The court has indicated its readiness to hear the matter but had to adjourn to March, 15.

Kasapa FM's Court Correspondent, Daakyehene Ofosu Agyemang reported that the circuit court refused bail application by lawyers of 12 suspects involved in the jailbreak of Kwabenya Police station during the last sitting.

According to the presiding judge, Aboagye Tando, the prosecution's opposition to the bail application is paramount since they suspect the accused persons may not be available for the trial.
He rejected and dismissed the bail application.