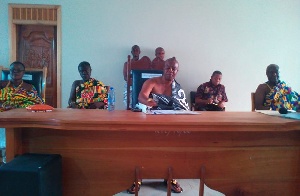 Nana Asiedu Agyeman III, acting paramount chief of the Kwahu Traditional Area, who said he wouldn't retract his endorsement of President John Mahama for a second term as being demanded by the Concerned Okwahu Development Youth Association (CODYA), fumbled on Wednesday when he was addressing President-elect Nana Addo Dankwa Akufo-Addo.
He was spotted struggling to read a prepared speech before him.

That was during Nana Addo's just-ended "Thank you" tour of the Eastern Region, when he paid a courtesy call on the Kwahuman Traditional Council to thank the chiefs and the people for supporting him to win the December 7 presidential poll.

The action of the traditional ruler, who doubles as the Abetifi chief, turned the meeting into a drama, drawing the attention of the sub-chiefs who started pronouncing words to assist Nana Asiedu as he spoke on.

After the drama, Nana Somuah Mireku Nyampong III, Kwahu Asakrakahene/Apagyahene of the Kwahu Traditional Council, also addressed Nana Addo.

Nana Somuah Mireku Nyampong III, on behalf of the Traditional Council, appealed to Nana Akufo-Addo to appoint some of the Kwahu citizens into his government to help build a better country.

Nana Asiedu Agyeman III, who claimed he puts premium on the development of the Kwahu area, said his endorsement of President Mahama for another term was a good step to attract infrastructure to Kwahu.
Nana Addo was accompanied by Dr. Mahamudu Bawumia, vice president-elect; Freddie Blay, NPP Acting National Chairman; John Boadu, Acting General Secretary; Otiko Afisa Djabah, Women's Organiser; Hackman Owusu Agyamang and other dignitaries.

The Kwahu-Asakraka chief further appealed to the president-elect to reduce taxes on imported materials to enable the Kwahu business men and women to invest and expand their businesses to create jobs for the teeming youth.

He also urged Nana Addo's government to rehabilitate the deplorable roads in the area, especially the 10-kilometer road from Nkawkaw to Atibie, which had been abandoned by the outgoing National Democratic Congress (NDC) government for the past eight years.

Nana Akufo-Addo, who was over-excited at the reception given to him by the chiefs, reiterated his resolve to fulfill the promises made during the campaign period.

After addressing the chiefs, Nana Addo met the party faithful who had besieged the forecourt of the Kwahu Traditional Council building, to address them.