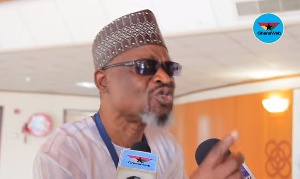 Veteran journalist, Alhaji A.B.A Fuseini, has launched a vicious attack on ace broadcaster, Kwame Sefa Kayi, questioning his integrity as a professional.
According to the National Democratic congress (NDC) MP for Sagnerigu, the host of Peace FM's 'Kokrooko' show 'is a serial liar whose integrity is flawed'.

Alhaji Fuseini's comments after Managing editor of the Insight Newspaper, Kwesi Pratt Jnr, described Kwame Sefa-Kayi as his friend who has integrity and does not lie.

Mr. Pratt who was a panelist on Radio Gold's 'Alhaji and Alhaji' show Saturday June 2, 2018 while speaking on the issues arising from the soon to be premiered investigative piece on the rot in the Ghana Football sector said he was informed by his friend, Kwame Sefa Kayi that the yet to be premiered video was a six-hour documentary which was edited to make it 2 hours for public viewing.

He added that, he believed Kwame Sefa Kayi because he had integrity and would not lie on such a delicate issue.
However, the description did not go down well with Alhaji Fuseini who indicated that Kwame Sefa Kayi was the opposite of what Mr. Pratt made of him.

According to Alhaji A.B.A Fuseini, Kwame Sefa Kayi along with other members of the famous 'Labone Coffee Shop Mafias' had once plotted against Kwesi Pratt accusing him of taking a $125,000 bribe.

The Former Night Editor of the Daily Graphic added that he was shocked Kwesi Pratt will eulogize a man who had once conspired to run him down and put his reputation in disrepute.

Anas Aremeyaw Anas' latest investigative piece on the Ghana Football sector dubbed 'Number 12' which is set to premiere on June 6, 2018 has cause some unrest in the country as the issue of his mode of investigation has come under scrutiny.