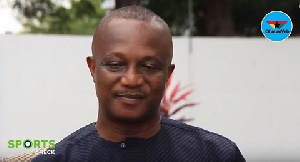 Former Black Stars coach,James Kwasi Appiah, is set to serve the Ghana Football Association (GFA) with a final demand notice for his unpaid salary by close of this week, according to his Lawyer Baffour Gyawu Bonsu Ashia.
Kwesi Appiah's lawyers are demanding an amount of US$185,000 from the GFA and Sports Ministry in owed wages and salaries to be paid as soon as possible.

According to the Lawyer, the GFA has failed to acknowledge letters sent on behalf of their client and they may be forced to drag the FA to court or report the case to FIFA.

Speaking in an interview on Wamputu Sports with Odiasempa Kwame Oware on Happy 98.9FM, he explained that, "We have written a letter to the GFA even though they haven't acknowledged receiving the letter. We wrote to the GFA but we haven't heard from them for a month now.

"We have written twice to the GFA . The first one was when the GFA sent an email to Kwesi Appiah asking him to return all properties in his possession. We wrote back to them but they've not responded .
"We shall continue reminding them and hopefully by the close of this week we will write a letter to them. We will advise ourselves if we do not get a response".

He added that they might turn to FIFA to demand for his salary arrears.

"The relationship between Kwesi Appiah and the GFA is governed by an agreement but it's not being honoured. We will continue pursuing them to get his money"

"We haven't sent the GFA to FIFA but it's an option. We haven't explored that part of the clause as it is,we haven't done that. We are ready to sit and talk with the GFA and agree on something".