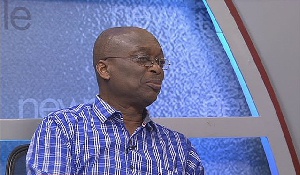 The Managing Editor of the New Crusading Guide newspaper, Kweku Baako Jnr has expressed satisfaction with the ruling of the implementation of the Representation of the People Amendment Act (ROPAA).
"I'm very impressed by the judgment I think it is a very reasonable one; one will wonder why it has kept long . . . I congratulate the plaintiffs and their counsel; very determined bunch of people," he said during a panel discussion on Peace FM's morning show 'Kokrokoo', Wednesday.

An Accra High Court has instructed the Electoral Commission (EC) to implement ROPAL within 12 months.
The High Court, presided over by Justice Anthony Yeboah, said the 12 months grace period starts from January 1, 2018, and it is to enable Ghanaians in the diaspora vote in the 2020 elections.

ROPAA was passed in 2006 and sought to empower eligible Ghanaians outside the country to vote in national elections.