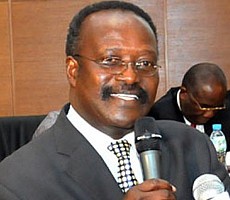 Fri, 21 Dec 2012 Source: GNA
Mr Kwesi Ahwoi, Minister of Food and Agriculture says the ruling National Democratic Congress (NDC) has a clear vision and commitment to the development of the agricultural sector.
He said Ghana is importing about 500-800 million dollars of rice annually, which could be used for the local production of the crop, adding: "Ghanaians like imported rice than local rice."

Mr Ahwoi made this known on Thursday, when he toured farms of the National Service Scheme (NSS) Secretariat at Dahwenya, Nungua and Papaoo in the Greater Accra Region, during which the secretariat handed over 8,000 bags of maize to headmasters of Senior High Schools in the Region.

He said this year 57,000 youth have been engaged in the Youth in Agriculture Programme of Ghana Employment and Entrepreneur Development Authority.

Mr Ahwoi assured the service personnel of a ready market for their produce under the Ghana National Buffer Stock and Export Development and Agriculture Investment Fund for import.

Mr Joseph Nii Area Afotey Agbo, Regional Minister said the NSS had shown that people in the Greater Accra can transform themselves through farming.
Mr Vincent Kuagbenu, Chief Executive Officer of NSS said his outfit has farms dotted in six regions, with about 500 service personnel managing them.

He said in Greater Accra the scheme has harvested about 10,000 bags of maize and have 15,000 birds and 500 pigs.

The NSS can also boast of Tilapia fish ponds and Rabbitry.

Mr Kuagbenu said next year the NSS would deploy more service personnel into farming to serve the growing population.
Source: GNA